Die schwedischen Blues-Rocker BLUES PILLS haben angekündigt, am 3. November ihre erste DVD/Blu Ray »Lady In Gold Live In Paris« zu veröffentlichen.
Die Veröffentlichung zeigt die ausverkaufte Show im Pariser Le Trianon vom 30. Oktober 2016 vor 1200 enthusiastischen Fans.
Die Band kommentiert: "We are stoked to share with you that we will release a live record/ DVD which was recorded and filmed during our show in Paris at le Trianon last October on the "Lady in Gold Tour". We decided to do this because we want to share our live expierence with all our fans and also those fans who might have never had the chance to see us live. The live interpretation of our songs differs a lot from the studio record versions. We would call it a bit more rock'n roll, more heavy, more jam parts, more psychedelic parts – simply another expierence . Playing live is what we've always enjoyed most. In no other situation can you connect as deep with your fans. We tried to catch the magical moments and emotions of the live atmosphere on DVD/ record for your living rooms, cars and wherever you will rock out to it. Paris was chosen because it means a lot to us to play in this beautiful city and also "le Trianon" is one of the most beautiful venues in Europe – this needed to get shared with you!"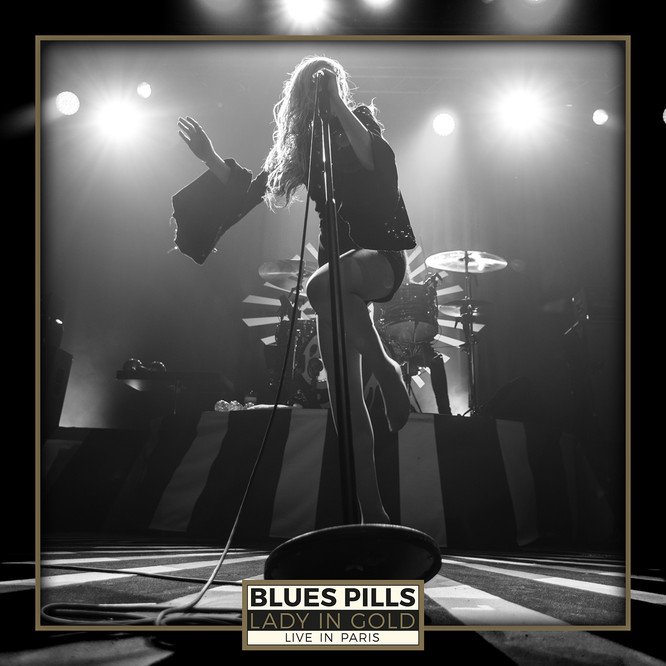 »Lady In Gold Live In Paris« wird folgende Songs enthalten:
1. Lady In Gold
2. Little Boy Preacher
3. Bad Talkers
4. Won't Go Back
5. Black Smoke
6. Bliss
7. Little Sun
8. Elements And Things
9. You Gotta Try
10. High Class Woman
11. Ain't No Change
12. Devil Man
13. I Felt a Change
14. Rejection
15. Gone So Long
Mehr Info zu »Lady In Gold Live In Paris« in Kürze!
Die Band wird schon bald auf ausgedehnte Norwegen-Tournee gehen und als Support ihrer Labelkollegen BLACK STAR RIDERS durch England Touren, bevor sie im Vorprogramm der legendären Rocker EUROPE durch die schwedische Heimat ziehen.
Morgen, am 9. September, spielen BLUES PILLS die letzte Show ihrer »Lady In Gold« Sommer Tour auf dem Hamburger Rockspektakel.
BLUES PILLS – LADY IN GOLD SUMMER TOUR 2017
09.09. D Hamburg – Rockspektakel
w/ THE DEVIL AND THE ALMIGHTY BLUES
04.10. N Trondheim – Byscenen
05.10. N Oslo – Rockefeller
07.10. N Konsberg – Energimolla
12.10. N Bergen – Hulen
13.10. N Haugesund – Flytten
14.10. N Stavanger – Folken
09.12. N Porsgrunn – Rip/Sort & Bla Scene
»Coming Under Heavy Fire Tour 2017«
w/ BLACK STAR RIDERS, TAX THE HEAT, DIRTY THRILLS
08.11. UK Wolverhampton – Wulfrun Hall
09.11. UK Edinburgh – Queen's Hall
10.11. UK Warrington – Parr Hall
12.11. UK Hull – University of Hull
14.11. UK Middlesborough – Empire
15.11. UK Sheffield – o2 Academy
16.11. UK Leicester – o2 Academy
18.11. UK Cambridge – The Junction
19.11. UK Portmouth – Pyramids
w/ EUROPE
05.12. S Umea – Idun Teatern
06.12. S Stockholm – Annexet
07.12. S Gothenburg – Liseberghallen
Quelle: Nuclear Blast